Now that you"ve done the work to get your site ranked in Google it"s time to take a look at where Google is sending your customers once they find you. Do they provide a link to your site? Is it accurate? Does it take them to the most effective page on your site? These are very important questions that you need to be sure you have the answers to and continue to check in on.
First of all, go to Google and do a search for your business name.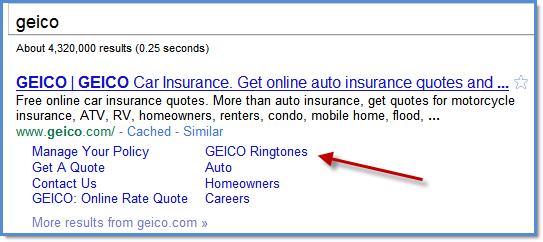 Take a look at the results. Under your business profile there should be at least one sitelink, that is one or more links to various pages within your Web site. If there isn"t at least one link then your site navigation can"t be parsed by Google. This is a sign that you need to alter your site navigation and provide Google with a better sitemap. The more simple and well formatted your site, the more likely Google is to include a sitelink with your business results. The more sitelinks the higher the likelihood a user clicks into your site directly to the page of their choice.
It may be time to dust off your site and be sure you"ve got the basics down. Here"s a great article showing you exactly how to structure your site to be as search engine friendly as possible. A Professional SEO"s Cheat Sheet for Building a Search Engine Friendly Web site for 2010.
Modifying your sitelinks
If Google did provide a sitelink with your business results make sure that it takes your customers to the page that YOU choose. If it doesn"t, then you need to make sure that your main page is clear to Google. Again, simple navigation and good backlinks should clear things up and get your desired sitelinks showing up in Google.
You can block any irrelevant link that falls into the reasons below: